Since I work with different customers all the time, I am constantly testing things for work in my home lab. When customers and co-workers hear about my lab they often ask what hardware is in the lab. I'm putting this post together so I can point people here and say "this is it."
The current version of my lab consists of 6 ESXi hosts, 2 Linux hosts, 1 Synology NAS, a Netgear 48 port switch and a Ubiquity Edgerouter X.
In the following picture, the items are as marked by colored areas as follows:
Purple – 1 x Netgear 48 Port Gigabit Switch, Model GS748T
Red – 2 x Shuttle DS81 Hosts Running CentOS Linux. Each host has a Celeron CPU and 16 GB RAM.
Yellow – 1 x Synology DS1815+ 8-bay NAS
Green – 3 x ESXi 6.0 Hosts in my management cluster. Each host has a Core i5 CPU, 64 GB RAM and 2 x Intel Dual port Gigabit NICs.
Blue – 3 x ESXi 6.0 Hosts in my workload cluster. Each host has a Core i5 CPU, 64 GB RAM, 2 x Intel Dual port Gigabit NICs as well as 1 x 128 GB SSD & 1 x 500 GB hard drive for vSAN.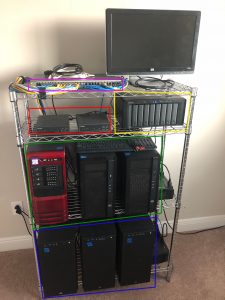 All of the hosts in the management and workload clusters are the same hardware. Each has an Intel CPU, 64 GB RAM (4 x 16 GB) and two dual port Intel NIC's.


The Linux hosts are re-purposed from the previous iteration of my home lab. I use them for Openstack and Docker testing and integration.
All of the ESXi hosts connect to the Synology NAS via NFS and store all VM's on a single 10 TB volume.

Each of the 3 hosts in the compute cluster take part in a minimal vSAN config that I use just for testing. I don't usually store anything permanent there since it is 100% unsupported hardware. 🙂

Finally, I have a single switch that connects all the components. I have several VLAN's designated for simulating specific network segments as well as providing a means to use VXLAN with NSX.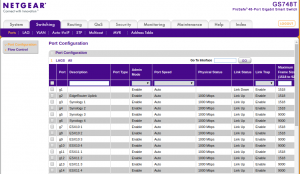 Everything has connectivity back to my home network and the internet via a Ubiquity Edgerouter X in a patch box where my FIOS Internet router is located.
Sometime in the future I'll show the software in use but it's fair to say it's VERY VMware and Linux focused. 🙂